Do You Have A Cheesesteak Shop Near Me?
See Our IB's Cheesesteak Locations
Looking for the best cheesesteak shop? We got you covered like MELTED CHEESE!
Swing by our IB's Oakland and Berkeley restaurants, we'd love to SERVE YOU!
IB'S BERKELEY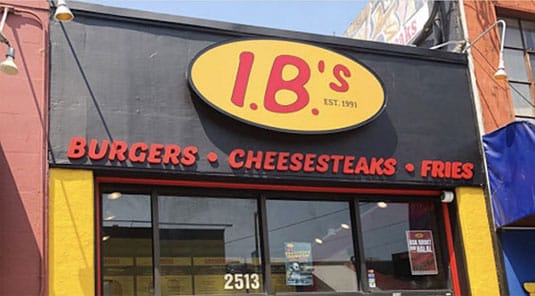 Looking for delicious sandwiches in Berkeley? If so, our spot on Durant Ave got you covered!
2513 Durant Ave, Berkeley, CA 94704
Hours of Operation
Mon – Wed: 11am to 10pm
Thurs – Sat: 11am to 2am
Sun: 11am to 12am
IB'S OAKLAND
Swing by our IB's Lakeshore location and enjoy the tastiest sandwiches Oakland provides!
3203 Lakeshore Ave, Oakland 94610
Hours of Operation
Mon – Thurs: 11am to 10pm
Fri - Sat: 11am to 11pm
Sun: 11am to 10pm
Deliciously Authentic!
If you're looking for delicious Lakeshore Oakland restaurants, then IB's Cheesesteak is just what you need. IB's Lakeshore is a beloved eatery that brings the taste of Philadelphia's iconic cheesesteak to the heart of "The Town". Famous for our authentic cheesesteaks and hoagies, we're known for making the best sandwiches Oakland locals have ever tasted. IB's Cheesesteak is a go-to spot for locals and visitors alike who crave the perfect combination of juicy steak, melted cheese, and soft bread. With generous portions of tender steak, gooey cheese, grilled onions, and peppers, our cheesesteak is a true delight for sandwich enthusiasts looking for the best sandwich Oakland can offer.
In addition to our mouthwatering cheesesteaks, IBs Oakland also offers delectable steak fries that perfectly complement each of our sandwiches. Crispy on the outside and fluffy on the inside, IB's steak fries are a must-try for those who appreciate the perfect balance of flavor and texture. If you're craving the tastiest steak fries Oakland can make, stop by IBs Lakeshore. If you're in the mood for the most delectable Philly cheese steak Oakland can make, swing by IB's Lakeshore today! See iB's Oakland Menu
About IB's Restaraunt
Our cozy IBs Berkeley eatery is the go-to spot for college students looking to indulge in a flavorful and authentic cheesesteak experience. With our affordable prices, friendly service, and convenient location, IB's is the ultimate destination for college students in Berkeley to satisfy their cheesesteak cravings. Swing by and discover your new favorite Philly cheesesteak Berkeley has to offer, then this is the joint for you!. In addition, for those looking for alternatives such as delicious lamb, IB's is also the best halal restaurant Berkeley has in town!
Conveniently located not too far from campus, our IB Berkeley location is perfect for a quick and satisfying meal between classes or for a late-night study session. Needless to say, we have become the go-to cheesesteak shop Berkeley students have come to know and love. If you're looking for the juiciest sandwiches with the most flavorful steak in Berkeley, swing by IBs Cheesesteak. See IB's Berkeley Menu. To stay updated on all of our latest IB's restaurants, promotions, news, and more, Follow Us On Instagram
IB's Oakland Fan Favorites
IB's Berkeley Fan Favorites
Reward Yourself GET 10% OFF
Join our LOYALTY REWARDS program and GET 10% OFF your first order! Don't miss out on EXCLUSIVE offers, collabs, new items, and more!