IBs Sandwiches Oakland & Berkeley Collabs
We couldn't have the best California cheesesteak shop without some legends from the Golden State now could we? If you're asking yourself "what's the best cheesesteak shop near me," many Bay Area locals would say IB's, and these collabs are just one of the reasons why! For the best sandwiches Oakland and Berkeley can bring, try these collabs today. To see our full IB's menu, click here!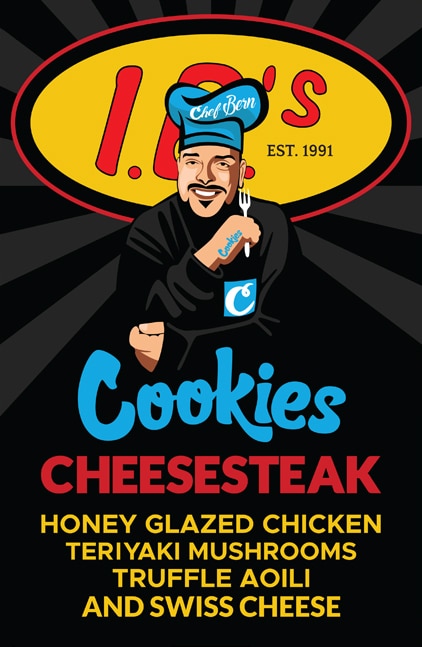 Berner
Cookies
Cheesesteak
IB's collaborated with Bay Area's local legend Berner to create an amazing Cookies Cheesesteak sandwich. And like Berner's Cookies brand, this cheesesteak is straight fire! Moreover, this IB's and Cookies collaboration includes the Cookies cheesesteak, along with ingredients and flavors hand picked by Berner himself. This delicious cheesesteak has become a fan favorite and is served in our exclusive IB's x Cookies sandwich wrap. We also have Cookies x IB's merchandise coming soon! We specifically crafted this cheesesteak San Francisco style out of respect for the SF legend himself. It goes without saying, people flock to our cheesesteak shop for this sandwich when they have the munchies!
Marshawn Lynch
BeastMode
Cheesesteak
If you're looking for delicious sandwiches in Oakland, we got the perfect one that won't let you down! Marshawn Lynch has been eating at IB's since his UC Berkeley football days. He comes by frequently to order his signature sandwich THE BEASTMODE CHEESESTEAK. In addition, we host an annual Food Eating competition called the Beastmode Challenge. During the contest, 3 lucky students compete to finish a 24 inch cheesesteak (his jersey #) and a load of fries. The challenge has yet to be defeated! With a cheesesteak named after Beastmode himself, it's no wonder that this is the best sandwich Oakland has to offer! Swing by and enjoy custom sandwiches Oakland style!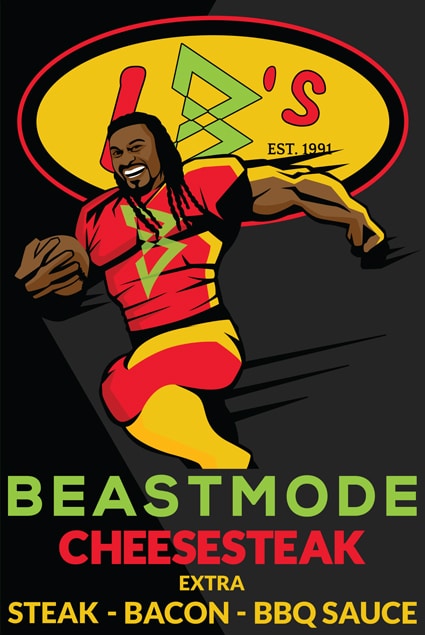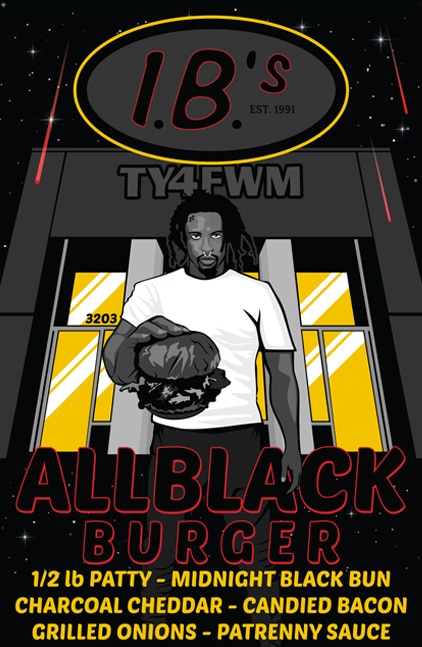 ALLBLACK
ALLBLACK
Burger
IB's teamed up with local Oakland rapper ALLBLACK to create this one of a kind ALLBLACK BURGER. This is one of the most unique IB burgers ever, made using squid ink and activated charcoal amongst our fresh ingredients. We delivered a Black Burger bun, black cheddar cheese, grilled onions, bacon, and our custom made Patrennessy BBQ Sauce. ALLBLACK rapper is a local GIANT in the Oakland community and we were happy to create this viral Burger in his hometown OAKLAND. This custom all black burger was sold for a limited time only and will be randomly brought back, so be on the lookout via our website and Instagram page. Swing by and check out the most custom and delicious burger Oakland can provide when available!
Do You Want To See More IB's Collabs?
If you want to see more amazing collabs with more Bay Area legends, please let us know. We would love to hear some of your ideas, tell us what you think. Contact Us TODAY!
The Bay's Best
Cheesesteak Shop
Hey Alexa, where can I find a sandwich with the "best steak and cheese near me?" If Alexa knows The Bay Area, she would say IB's Cheesesteaks of course! Needless to say, IBs sandwiches are not only delicious, but are also made with quality ingredients, so you know you're getting a good meal. If you're looking for the most delicious sandwich with steak Berkeley and Oakland can make, check out these IB's collabs. For more of the best mouthwatering sandwiches Oakland & Berkeley can bring, see our full menu!

Follow Us On Instagram