Tastiest Burgers Oakland & Berkeley Makes!
Enjoy Bold & Juicy Flavor With Every Single Bite!
DO YOU HAVE A CHEESESTEAK SHOP NEAR ME? 
SEE OUR IB'S CHEESESTEAK LOCATIONS
Looking for the best cheesesteak shop? We got you covered like MELTED CHEESE!
Swing by our IB's Cheesesteak restaurants at either location below. We'd love to SERVE YOU!
IB'S BERKELEY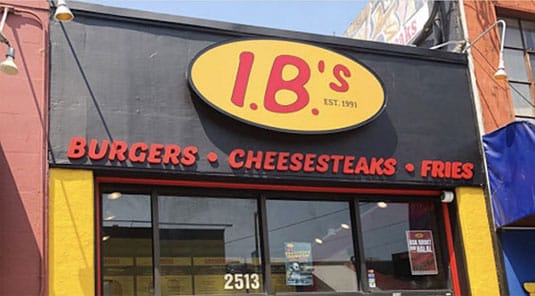 Looking for delicious sandwiches in Berkeley? If so, our spot on Durant Ave got you covered!
IB'S OAKLAND
Swing by our IB's Lakeshore location and enjoy the tastiest sandwiches Oakland provides!
Reward Yourself GET 10% OFF
Join our LOYALTY REWARDS program and GET 10% OFF your first order! Don't miss out on EXCLUSIVE offers, collabs, new items, and more!
IB's Hoagies, Burgers, & More…
Melted To Perfection
We're not just any cheesesteak shop, IB's is THE cheesesteak shop! Come enjoy your favorite IB cheesesteak, hoagie, or burger. Imagine biting into our delectable cheesesteak sandwiches and savor the rich flavors of succulent steak, melted cheese, and perfectly sautéed onions and peppers, all nestled between layers of warm, toasty bread that will leave you craving more. To see more of our delicious food items, Check Out Our Menu
We even have Philly steak halal sandwiches with premium and flavorful toppings. Don't forget to order a side of the best crispy steak fries Oakland and Berkeley has to offer! To stay up to date on our latest products, promotions, and more, Follow Us On Instagram